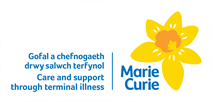 Our Community Coordinator, Lesley Hodgson, in partnership with Marie Curie would like to set up some Bereavement Cafes or support groups in Merthyr Tydfil.
Full training will be provided via Marie Curie in two, three and a half hour sessions.
Sharon, from Marie Curie explains "Marie Curie supports people who have been bereaved by any terminal illness not just Cancer. I don't think people realise that". Each café needs 2 or 3 volunteers.
"We would ideally love to have one in the North of the borough, one in the South and one in the town centre, if enough volunteers can be found", says Lesley.
To find out more about what would be involved. Contact Lesley on 07580866547.